Description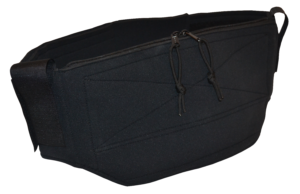 WPC's Preclusion F.P.A. (Fanny Pack Athletic) holster redefines what you know a fanny pack holster to be, while maximizing your concealed carry options.  The FPA is designed to be very low profile, unlike many of the other fanny pack style holsters.  It is so low profile in fact, that you will think it is a belly band.  Constructed of 2mm neoprene, your pistol will be protected, but still allow you easy access should the need arise.  Being constructed of neoprene, you do not have to worry about sweat soaking thru to your firearm.
Never worry about going out for a run or bike ride wearing athletic shorts and trying to figure out a safe way to carry your firearm. The FPA will make going out to exercise without your firearm a thing of the past.
The FPA consists of one large main zippered pouch (14″ long x 6.5″ wide tapering to 4.6″on the ends) lined with loop velcro.  On each side of the main pouch there are two magazine-style pouches (2.75″ x 3.75″), followed by two additional side pouches (8.9″ x 3.9″), each large enough hold a cell phone as big as the Iphone 7 Plus, and one additional open top pouch ( 4.25″ x 3.9″) that could be used to hold a small water bottle (depending on your body type).
The FPA is fully ambidextrous.  Also included is a velcro hook holster for the main pouch that allows the user the ability to position their firearm in a manner that allows them easier accessibility. The large main pouch also contains two loops in each lower corner to allow for the attachment of a lanyard from a kydex trigger guard cover.
The FPA will fit waist sizes up to 48″, allowing for 6 inches of velcro overlap.  For people with smaller waist sizes, the excess velcro can be easily trimmed off with a scissors.
Note: We recommend using the FPA system with a trigger guard cover or another mechanism to cover the trigger guard of the firearm you are carrying.  WPC is not liable for anything that happens as a result of misusing this product.