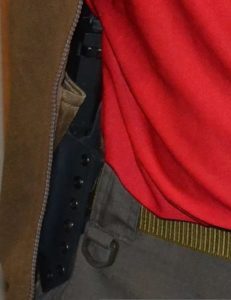 If you are in the market for a new holster and or need suggestions on your first holster, keep these tips in mind.  Obviously, being a custom Kydex holster maker, we prefer a holster made of Kydex for a variety of reasons.  Kydex holsters hold the firearm closer to your body, do not retain moisture, and are rigid allowing for one handed malfunction clearing if needed.
CHARACTERISTICS OF A GOOD HOLSTER
Covers the trigger – You do not want the trigger of your gun exposed for fast shooting.  This is a recipe for disaster.  A negligent discharge could injure or kill you or someone else.  All it takes is for something to hook the trigger.
Stays in place – You do not want your holster shifting out of place.  You want to be able to quickly access your gun if you need it.  Time is everything in a gunfight.  You also don't want to inadvertently advertise that you are carrying concealed, or you may make yourself a target.
Comfortable enough to use for long periods – You are more apt to carry if you feel good when wearing your holster.  If your holster digs into your side, you will fidget and also may inadvertently let people know you are carrying.
Retains gun until needed – The last thing you want is for your gun to fall onto the ground when you are getting out of your car or when going to the bathroom. Make sure your holster has good retention.

Releases gun when needed – You need to be able to quickly draw your gun if the situation dictates.  Having a holster that is too tight or has too many retention mechanisms, can jeopardize your life.  Again, time is everything in a gunfight.
Gun can be drawn with either hand – If your strong hand is disabled because of the circumstance you find yourself in, you still need to be able to get to your gun with your other strong hand.
TRAIN WITH YOUR EQUIPMENT SO YOU KNOW IF IT WILL WORK WHEN YOU NEED IT!!!